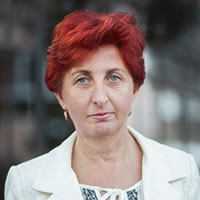 Company / Organization

Technology High School Carol I
Short description

I am a graduate of the Faculty of Chemistry, Department of Chemistry and Physics (5 Years) within "Al. I. Cuza " University from Iași, class of 1994. In the period 2000-2002 I attended the postgraduate courses in Computer Science and Computer Assisted Technologies, Credis Department at the University of Bucharest. In 2010 I started a Master in Educational Management and European Integration within SNSPA Bucharest, which I graduated in 2012. Since 1996 I have been teaching at the "Carol I" Technological High School from Valea Doftanei, holding the tenure of the Department of Informatics since 2003. Since 2018 I have been leading the Coder Dojo Programming Club Valea Doftanei, in which around 100 children participate in workshops, such as: Microbit, Scratch, Arduino, Web Programming and, this year, LegoMindStorms EV 3, Virtual and Augmented Reality, Robotics.