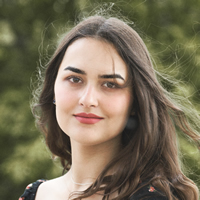 Company / Organization

Faculty of Psychology and Educational Sciences, University of Bucharest

Title / Position

Student – Psychology
Short description

I am very happy with what I do. As a psychology student, I have come to be much more attentive to the people around me, to have more understanding and gentleness towards them. At the same time, I started to be like that with myself, which is an important achievement in these years. In addition, I collaborate with "Școala de Valori" ​​in the training department. Sometimes I myself have the trainer role and present workshops because I like to pass on what I learn. I am a very curious person. I like to discover people, places, and passions.