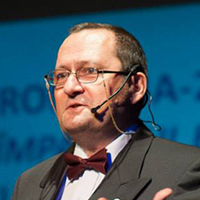 Company / Organization

"Leaders for the Third Millennium Club" Asoc.

Title / Position

Chairman of the Board
Short description

Marian Staș is a reserve colonel in the Romanian military with degrees in computer science (1985) and mathematics (1996), and a Ph.D. in software reliability (2001). Harvard University graduate (1999; Master in Public Administration). Since 2002, Marian coordinates the youth leadership program "Leaders for the Third Millennium", a non-formal education project with more than 18,000 graduates to date, in Romania and Moldova. Besides quantitative aspects of public policy, his areas of interest and expertise include teaching, training and consulting on organizational development, effective teamwork, leadership and training of trainers. Involved in the transformation of Education in his country, the most important process Marian currently facilitates is the paradigm shift of the Romanian public school system. Achievements: Reflective practitioner with extensive work in the field of changing the Education paradigm in Romania. Books and articles published in the field of real / transformational leadership applied to the field of Education. Most significant achievements: influencing the process of placing Education in the National Security Strategy, as a major vulnerability to the socio-economic development of Romania ("Education and National Security. Vulnerabilities, Threats, Solutions" – BMI Publishers, 2013); facilitating the inception of the first pilot-schools to run de-centralized curricular architecutres, as of 2021-2022 school year.