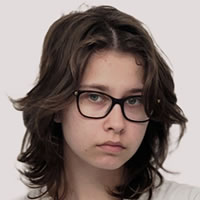 Company / Organization

National College "I.L.Caragiale" (Bucharest)

Title / Position

High School Student
Short description

Ioana Cristina Ciurez is a 17-year-old student in 12th grade, currently attending the National College "Ion Luca Caragiale" in Bucharest. She has a passion for literature and learning foreign languages. Ioana actively collaborates with several school magazines, including "D-ale lui Cargiale" and "Mozaic Moisil", and has been a member of her school's writing club since her freshman year of high school. She is passionate about writing poetry and hopes to get her work published. She is preparing to pursue a degree in literature or philosophy in the future.