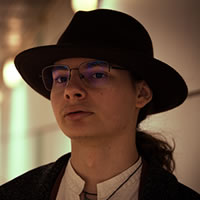 Company / Organization

National University of Music (Bucharest)
Short description

Vlad Ciocoiu is an artist currently ongoing interdisciplinary development. Currently a Year II classical composition student at the National University of Music in Bucharest and an Associate Writer for Radio România Cultural, he has affinities for areas like music, film, and performance art. By working with creators from diverse backgrounds, he aims to bridge together the worlds of different arts, in order to facilitate human connection. His music is inspired by nature, a prevalent theme in releases like his debut EP, "When It Rains". He is also part of "The Mad Hatterpillars", a newly formed performance art collective aimed towards sound exploration.