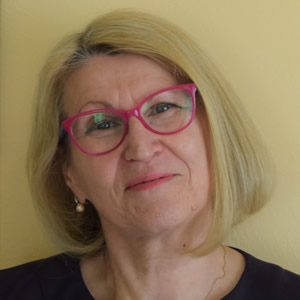 Company / Organization

Middle School Ferdinand I

Title / Position

School Principal

Short description

Violeta Dascălu has more than 32 years of activity in the field of education, 18 of which are in management. She has a degree in Geography from the Faculty of Geography-Geology of the University of Bucharest and a master's degree from the University of Bucharest, Faculty of Psychology and Educational Sciences – "Alternative pedagogies and theatrical art in education" (PED-ARTE). Violeta Dascălu is the headmaster of Ferdinand I School from Bucharest, a district school located in Obor-Baicului area, in the 2nd district, a school with a diverse ethnic background and economic and social disadvantaged families. Ten years ago, this school was avoided by intellectual families and recorded a 6.5% dropout rate. Therefore, the priority was to reduce this rate, which is currently at 0.1%. Access to European projects, such as Erasmus+ and POSDRU, as well as a partnership with VIA University from Arhus, Denmark, had led to a shift in the mindset of teachers and their teaching skills, în terms of connection with students and communication with parents. Today, the school is valued and sought after by parents for the engaging environment, the professionalism of the teachers, but also for its extracurricular programs. The school community also includes NGOs, higher education institutions and external partners. In 2017, Violeta Dascălu was awarded the "Women of Courage" Award for Education, during a gala held at the US Embassy in Bucharest. Also, in the summer of 2018, she received the "Director of the Year for Innovation" Award, granted by the Association for Values in Education, and in 2020 the "Creative School" Distinction, awarded by the City Hall of District 2. She is an author of geography textbooks and workbooks.