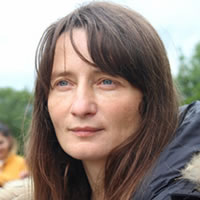 Company / Organization

"Pașaport pentru Succes" Program

Title / Position

PhD Educational Psychology, Trainer & Speaker
Short description

My name is Sim and that's all. People find me energetic and positive and appreciate me because I bring out the best in them. I was trained as a psychologist and psychotherapist, and at the moment I use my experience and knowledge in emotional intelligence education programs. I created the "Passport to Success" program for teenagers. The program contains 5 of the most important skills needed to achieve success in any area of ​​life. I organize emotional intelligence development camps for teenagers, bootcamps for women, training and conferences for adults. I am often invited as a speaker on topics such as: emotional intelligence, emotions, happiness, interpersonal relationships, education, self-confidence, team and leadership. I have understood for several years that I cannot teach anyone anything, as learning takes place within us, only when we are open to observing ourselves. That's why I try to be a humble and loving instrument that shares her experience with others.