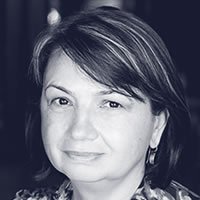 Company / Organization

Teach for Romania

Title / Position

Head of Training and Support
Short description

Mirela Ștețco is a Bachelor of Philology with a Master's degree in Educational Management and a certification in coaching. She considers herself a practitioner dedicated to facilitating experiences for people who want to grow differently. Teacher, methodist, trainer, educational project coordinator, Mirela decided to reposition her passion for education. Currently, she coordinates the team that supports Teach for Romania teachers, through an innovative learning program, which combines training, mentoring and coaching. She strongly believes that you live authentically only if you allow yourself to learn continuously and enjoy the beauty of people and the experiences of life. She confesses that it is difficult for her to breathe without integrity, fairness and compassion, because all these are connected with her personal mission.