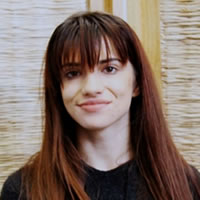 Company / Organization

"Spiru Haret" National College, Focșani

Title / Position

High School Student
Short description

Hiii! My name is Mihaela Ghilogaș, I am a 12th grade student, at "Spiru Haret" National Pedagogical College, humanistic profile (Philology) . I am an energetic and active person, extremely curious and spontaneous. I like to do things for my personal development, and I believe that I have a solid civic sense, being involved in many volunteer projects and social activities (Boovie, Vreau să fiu Antreprenor, C@rte în sate, Clubul de Dezbateri și de Teatru ++ ). As an empathetic person, I love teamwork, but I also do very well on my own. I consider myself ambitious and often stubborn, I like to talk and express my opinions, but also to listen and learn new things.