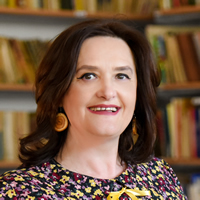 Company / Organization

"Vasile Conta" Secondary School, Iași

Title / Position

Mathematics/Informatics Teacher
Short description

Liliana Olărașu is a Math teacher at the "Vasile Conta" Secondary School in Iasi. She is the leader of the community-based initiative IMPACT 36 CreActorii, a program developed by the Noi Orizonturi Foundation, and she is a member of the educational association Aspire Teachers. She believes that the two organizations represented essential instruments for her professional development. At Aspire Teachers she found like-minded peers, both professionally and personally, with whom she created resources and tools that are used by hundreds of teachers from all over the country. In 2022 she was selected amongst Merito laureates, an annual award destined for excellent teachers in Romania. Liliana enjoys playing and transforming her Math lessons into learning contexts where success is measured by pupils' incremental progress and also by their harmonious socio-emotional development, rather than by the number of won competition prizes.