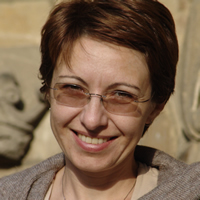 Company / Organization

Center of Excellence in Image Studies, UniBuc

Title / Position

Associate Professor
Short description

Laura Mesina este conferențiar în Studii culturale la Facultatea de Litere, Universitatea din Bucureşti. Este co-fondator al Centrului de Excelenţă în Studiul Imaginii (CESI) și membru al Şcolii Române din Roma, Accademia di Romania. Este specializată în studii literare (Ev Mediu și Renaștere), istoria și teoria imaginarului și studii culturale vizuale. Coordonează şi editează volume colective şi numere de reviste ştiinţifice (Images. Journal of Visual and Cultural Studies; Caietele VIZUAL), precum şi seria "Text şi imagine", CESI, Editura Universităţii din Bucureşti.