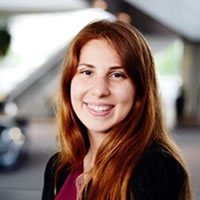 Company / Organization

Microsoft Netherlands // Romanian Science Festival

Title / Position

Artificial Intelligence Specialist // Co-founder
Short description

Eliza Casapopol is on a mission to make a positive impact in the world with the help of Artificial Intelligence (AI) and technology. She is currently working at Microsoft in the Netherlands on AI in the Retail industry and she has a background in Mathematics from University of Oxford. Being passionate about sharing and educating others, especially children, about STEM topics, Eliza is a co-founder of the first national science festival in Romania, Romanian Science Festival.