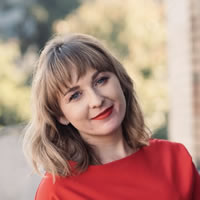 Company / Organization

"Lucian Blaga" University of Sibiu

Title / Position

Associate Professor
Short description

Daniela Dumulescu builds personalities every day. She is a certified psychologist, doctor in the psychology of vocation development, assistant professor at Lucian Blaga University of Sibiu. She has won several grants for presenting her research papers at scientific conferences in Switzerland, Austria, the Czech Republic and the USA. Also, in 2014 she received the "Bologna Professor" distinction from the National Alliance of Student Organizations in Romania (ANOSR), the only title offered by students to teachers who bring added value in higher education. Daniela Dumulescu works in the field of education and psycho-educational and vocational development strategies for children and young people. Her main interests in research are career management strategies, social and emotional skills in the educational context, the development of spiritual well-being and self-compassion.