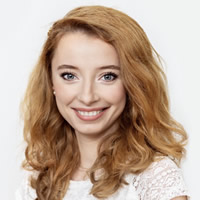 Company / Organization

Center of Excellence in Image Studies, UNIBUC

Title / Position

Ph.D & Teaching Assistant
Short description

Corina Popa is a Teaching Assistant at the Center for Excellence in Image Studies (CESI), University of Bucharest and the initiator of the "Grammar School" project. She has a PhD in Philology (Linguistics sub-domain) and she is pursuing her second doctoral program in Cultural Studies, within the Center of Excellence in Image Study. At CESI, Corina teaches Science Writing and coordinates the activities of the CESI-Genesis College partnership. Her professional experience is closely linked to the field of education, being, over time, advisor to the Department of Education and Research of the Presidential Administration, Expert in University Ethics at UEFISCDI, producer of the show "Next: education of the future" and Advisor on Education at the Romanian Parliament. Among the coordinated education projects are the Grammar School (initiative to popularize the rules of correct expression in Romanian, with over 90,000 followers on social media), the Romanian Language learning platform "Romanian Words" (cuvinteromanesti.ro) and "GramMania Diaspora – Festival of young people who speak correctly", supported by the Department for Romanians Everywhere. Corina is constantly present in the public space with interventions that support equity and diversity in education, both at events, such as SuperTeach, EduInvest, FIEdu, TEDxCluj Salon etc., and in the Romanian media.