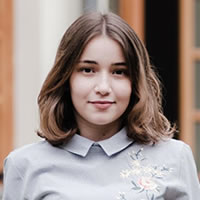 Company / Organization

"B. P. Hașdeu" National College, Buzău

Title / Position

High School Student
Short description

My name is Carla Sava and I hail from Buzău. I am 18 years old and am currently in my final year of high school at National College "Bogdan Petriceicu Hașdeu". Hopefully, by this time next year I'll be studying International and European Law in the Netherlands, as I feel particularly passionate about the ways in which law, morality and modern society are interconnected. As far as extracurriculars are concerned, I can firmly say that I am in love with charity and social initiatives and truly amazed by the power of debate. Reflecting on these last four years of highschool, I am proud to see that my voluntary work has revolved around youth engagement in the society and I feel it has achieved real change.