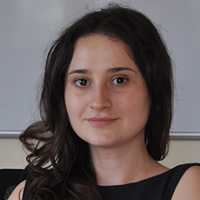 Company / Organization

Enformation // Institute for World Economy of the Romanian Academy

Title / Position

Project Manager // SR II
Short description

Alina-Cerasela Avram is a Bucharest Academy of Economic Studies graduate, with a PhD in the field of business management. Since 2017, she has been involved in several projects powered by Enformation. Alina has also acted as a senior researcher at the Institute for World Economy since 2016 and has developed several innovative projects in the private sector. Alina is the editor-in-chief and founder of the Junior Scientific Researcher Journal, a publication founded in 2015, after she won the Start-Up Smart project competition for young entrepreneurs. Another similar initiative is Catalog Med Tour – a portal dedicated to medical tourism, launched in 2012. Alina has experience in publishing, being the author of several articles that were included in journals with Impact Factor. Moreover, she is the guest editor of several BDI publications, one of them with Impact Factor.